Choose your bulk waste composter
Communities that Compost
See how communities across India are making a difference
Choosing a composter is just the first step!
Truly waste sensitive communities have figured out and implemented systems that allow them to manage, maintain and sustain their waste management initiatives. The best systems do not depend on products or people alone, they are process dependent and sustainable in the long run.
THE REAL 6 CHALLENGES

Distilled wisdom from our work in the field

HOW WE HELP

Helping you implement the best fit solution
1. Ownership

Community participation is essential for long term impact. With many competing opinions, points of view and options available, there may be those who say composting is smelly, too expensive or too tedious. The first challenge is getting everyone to see waste as 'my problem'

A community with a champion (like you!) is more likely to succeed in taking ownership for managing waste and putting a robust system in place. We have found that children are great ambassadors in residential places and senior leaders are great ambassadors in institutions - so getting them involved is key. Doing fun events (like a waste treasure hunt), quizzez, showing films, giving prizes all help to get buy-in from the comunity. We will also guide you with accurate information on the different options available in the market which helps convince the naysayers!
2. Segregation

Segregation at source is absolutely essential for any waste sensitive community. It is the basic 'bare minimum' habit that needs to be inculcated as it ensures that value can be recovered from various materials. Without proper segregation, composting or recycling efforts may not have a long lasting effect. Changing habits is sometime difficult, but where there is a will, there is most certainly a way.

1. We run awareness & training sessions for residents and staff to get everyone to start segregating (it's really simple once you start!)

2. We can help implement the system by supplying bins for every home and communciation material that is engaging and easy to follow.

3. We recommend segregation into at least 4 categories - wet (compostable - GREEN), dry (recyclable if kept clean - BLUE), toxic (ewaste, batteries, bulbs - YELLOW) and rejects (sweepings, sanitary waste - RED).
3. Collection

Every community faces the challenge of finding a waste collection system that is effective in their context. If door to door collection is not viable due to lack of staff, the home owners or maids need to be trained to dispose the 4 categories of waste correctly.

We help you implement an effective collection system and train housekeeping staff to understand and practice this. The right implements (trolley's, buckets etc) which are also key to staff efficiency. When residents have to manage this themselves, we can help you find the best system and get everyone on board.

Daily collection of rejects (RED for municipal truck) and organic waste (GREEN for composting). Weekly collection of dry waste (BLUE for recycling). Residents to drop of Toxic waste YELLOW at a common collection point (to be given to the right agency for safe dismantling and reuse).
4. Storage

It might take some time for residetns to become comfortable with the idea of multiple bins - even through it's so simple! Wet and reject waste need to be disposed daily while dry waste and e waste require some storage.

1. Sanitary waste in large quantities needs to be picked up daily by an authorised vendor for a fee (gets incinerated), or by the municipal truck (goes to landfill). So try to make sure storage of this is near the gate where pick up is easy and it does not need to be hauled further.

2. The best place for common e-waste storage tends to be in the basement. Bulbs and tubelights need special care and must be stored in a separate bin to avoid breakage and mercury contamination. We can connect you with authorised e-waste vendors who reuse / dispose of both e-waste and bulbs safely. You will need to pay for this service.

3. The dry recyclable waste can be stored together for vendors to pick up, or further segregated and stored if you want a better price. For example: Segregate dry waste into plastic (thin) plastic (hard) Paper, cardboard and others. This will make the conservancy workers work easier.

4. Organise a clothes, toys, bulky items drive once in a month and either donate these or get a recyler to pick it up. You may need to pay them for this service.
5. Recycling

The biggest challanege seems to be getting every household to keep dry waste clean and dry (that means plastic packets which have food have to be rinsed and dried or thrown out with rejects - soiled packets are not valuable to a recycler. Milk packets need to be rinsed and stored. Another challenge is reaching a recycler or finding an agency who will come to collect aggregated dry waste.

We can connect you with agencies who will come and collect dry waste once a month. There are many communitites who get paid for their dry waste and invest it in a composting system to recover costs. There are some very enterprising communities whose associations run in profit thanks to perfect segregation and recycling set up that generates a lot of vaue for their community and recyclers. Space to aggregate dry waste and value based segregation generates the most returns. This needs a few committed comunity champions to push through the hurdles!
5. Thinking long term

Often segregation and composting systems are set up by enthusiastic ommunity members or leaders only to slowly fizzle out when a manager changes or the association president is reelected. Having long term vision for your waste management project and keeping it going over until it becomes second nature continues to be a challenge.

We have found that the best systems are those that do not depend on one person, the asssiation or facilities manager to function efficiently. The approach should be to implement well thought through processes that work for everyone. Habits need to then develop around these processes to that a long term shift in thining and behavioural change is possible. Daily Dump's expertise is in enabling people to see waste differently so waste management is no longer a chore but a fun and engaging activity with long term returns. The best long term impact we can hope for is when good waste management practices become second nature for the next generation.
What will your community do with your done compost?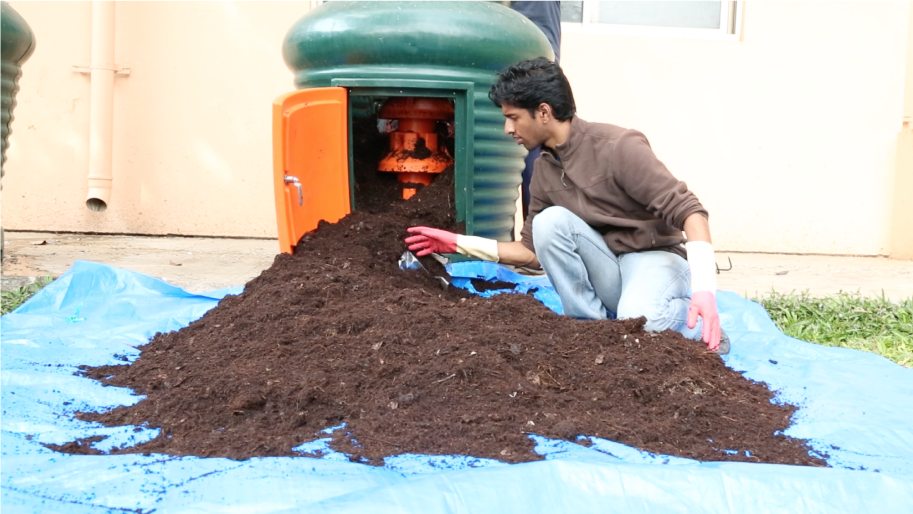 This is a real concern when you do not have a garden! We can pick up compost in Bangalore but not in other locations.We even pay a small sum for each kg of compost picked up.

Here is something most people do not know: Our cities are designed to manage poison (mixed waste is just that). We have a budget, land alloted, trucks for transportation of poison. Our cities are not designed to manage nutrition. So when you make all this compost rich in nutrition, you will struggle to reach it to a farmer or a park; because transportation costs are not cheap.

In some cities we are also working on a way to connect you to farmers who will use this organic rich material. If you can help, do let us know. :)
More on bulk waste composting