Stop throwing a mixed bag daily!
Why mixing is short-sighted
To explain the harmful effects of mixed waste, think about these analogies!
Why do we store spices separately when they get mixed in food?

We know that each spice has an individual flavour & taste. We take care to use them in the right proportions. Storing each separately keeps its unique flavours intact. it's about preserving value.

What happens if you dip a biscuit into soap & eat it?

Soap & biscuit are each useful separately but poisonous when mixed and ingested - sure to cause an upset tummy! Similarly, mixing waste is making the Earth (and us) sick.
Know what you throw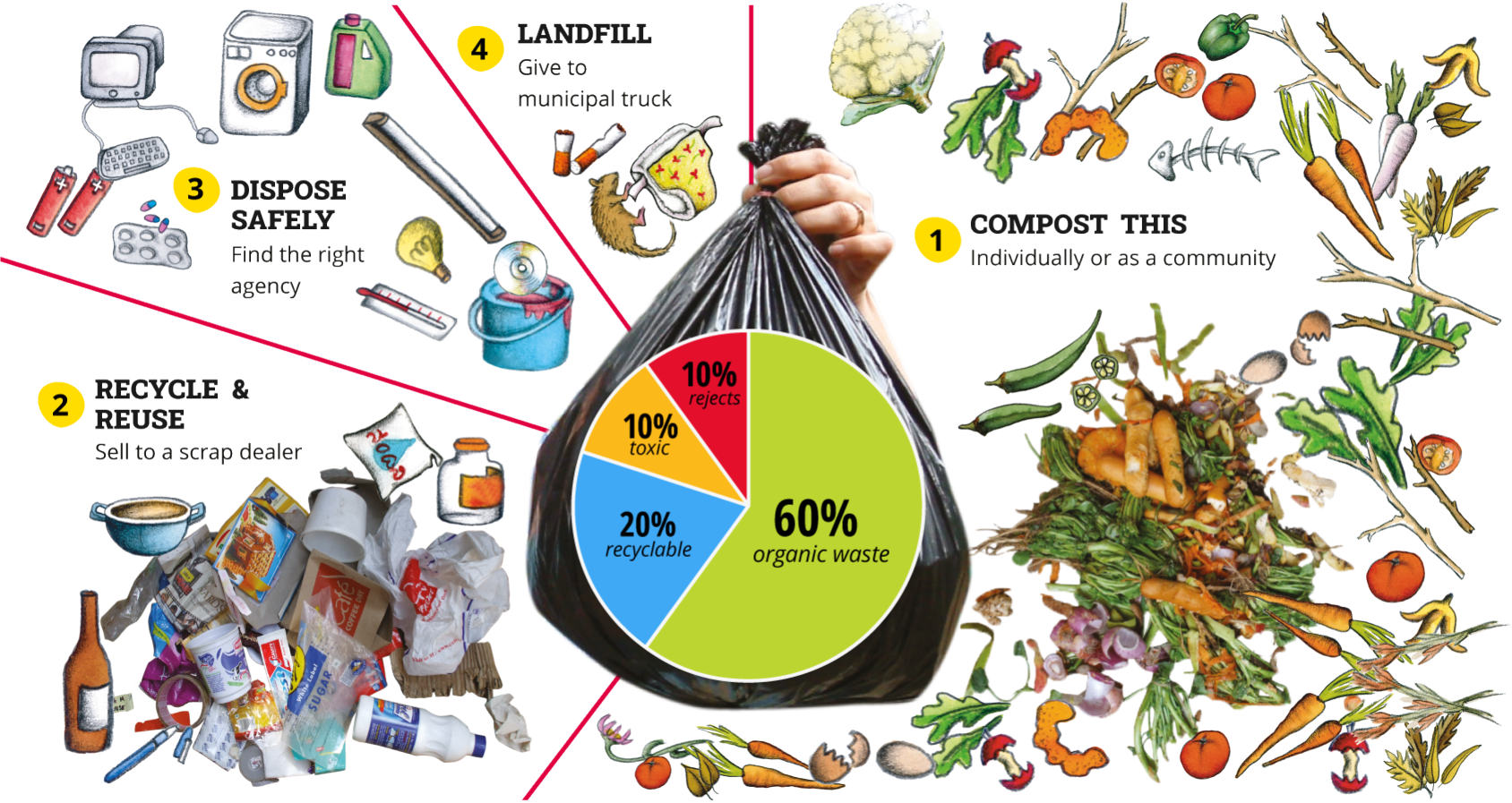 These are resources, not waste!
This chart is based on first hand research into the types of waste generated in a typical Indian home. We found that 60-80% is organic waste, 20% is recyclable, 10% is toxic and 10% is reject waste that has to go to a landfill or be incinerated. Good waste management means throwing only 10%, once in a few days!
pdf

Organic
Kitchen and Food waste
60% to 80% of a typical Indian's waste is organic (food, kitchen and garden waste).
This will degrade into compost (manure) under the right conditions.
1. Forget mixing waste

We have all got used to lining our bins with
plastic and dumping everything in. Stop it!

2.Keep it hygienic

Ideal Bin for organic waste: Steel with lid and handle. A lid will ensure that flies don't get attractee

3. Make it convenient

Place it where it is easy to access. Lining: No need of paper or plastic lining, just wash it out once empty (You wash your plates, don't you!).
Recyclable
Paper, plastic etc.
The important thing is to keep dry waste clean since further segregation for recycling in India is mostly done by hand. Rinse and dry this category to make the recyclers job dignified and hygienic. Store in any neat, convenient way possible!
Connect with the real green warriors - your neighbourhood kabadiwala
LEARN THE VALUE OF VARIOUS MATERIALS
Rejects
Batteries, bulbs etc
Rejects can now leave home in newspaper.
STOP USING THE BLACK GARBAGE BAG!
Do you use a lot of diapers at home? See examples of how others are thinking about,minimizing and dealing with sanitary waste.
Toxics
Sanitary waste, sweepings etc.
Toxic waste can cause the most harm - store and dispose safely
E-waste & appliances

These contain many precious materials that can be recovered under safe conditions. Find a collector in your area!

Paint & industrial liquids

Try and reuse containers as much as possible. Recycle what is clean. Some agencies collect this with other toxic waste.

Bulbs & batteries

Bulbs and batteries contain mercury and lead - which poison ground water when mixed. Store them safely without breaking!

Old medicines & cosmetics

Don't flush these down the toilet! Many local hospitals collect old medicines and incinerate them with other medical waste.
Check out our space saving way to store dry waste
SHOP

Sorting Station
Throwing only 10% is the goal!
Before

After
Where does each category go?
10 benefits of segregation
Segregation impacts lives, energy, toxicity & more. The better you segregate, the more equitable and healthy society can become. We cannot stress enough how important it is. Teach your family & children to segregate even if your city does not insist (yet).
pdf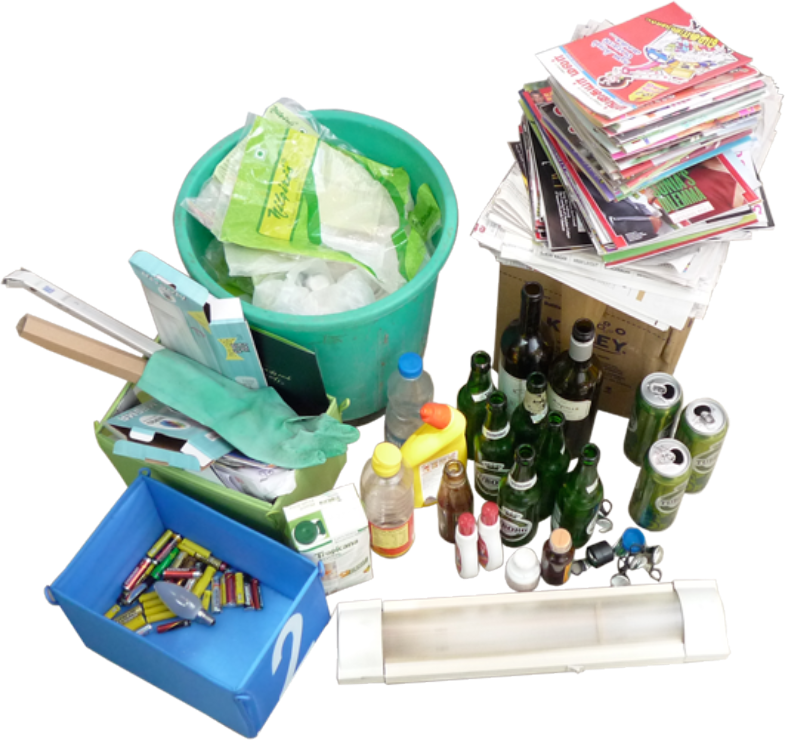 Don't let segregation overwhelm you!
Do the best you can and you will learn as you go. Remember that there are people who will separate, clean & dry materials further. For example:
milk packets are more valuable than a bag full of bits of paper. If you mix the bits with your dry milk packets, it's hard for the recycler to separate.

soiled food packets, broken glass and sharp objects may hurt or harm a recycler - these can go with rejects, wrapped well in newspaper.
Our simple actions can make others work more hygienic, dignfied and safer.
SHOP PRODUCTS THAT HELP YOU SEGREGATE
more about segregating waste & creating less poison